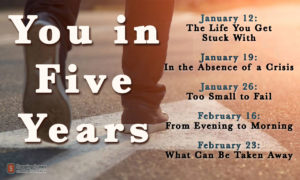 We all have goals, plans, hopes, and dreams for the future. Things we want to start – or maybe stop – doing. But how do we get there? This series explores some spiritual and practical steps you can take to become the person you want to be in five years.
Cafe opens at 10:00 AM. Service starts at 10:30 AM.
If you want to catch up on a previous message series, be sure to visit our past messages page by clicking here.